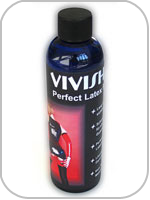 Simplifies cleaning latex & rubber clothing. Easy to use cleaner for your latex/rubber clothing. Size 250ml.
After wearing the latex hand-wash it preferably in warm water ( 30-40 ° C) and use VIVICLEAN. Wash the latex at least 1 minute in it. Then rinse the latex with clean water thoroughly.
In case of being heavily soiled or smelling the latex can be inserted longer (about 30 minutes) into VIVICLEAN to to achieve a maximum cleaning and disinfection result.
As dosage we recommend 15-20 ml per wash given in a few liters of water.